About me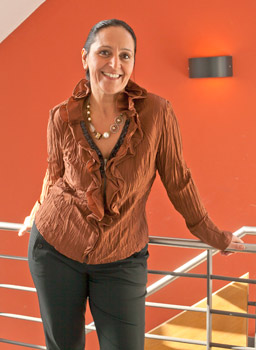 My name
Noura
Ben Hassine

My strengths / my motivation
Motivating myself and others
Loving what I do
Planning strategically
Keeping an overview
Recognizing conflicts and developments
Planning and achieving goals
Passing on knowledge
Investing a lot of energy into my work and my life
Being very flexible and adaptable
Learning new things
Conducting mindful conversations
Experiencing a respectful togetherness
Breaking down stereotypical thought processes
Focussing on practical application and practical relevance
Offering several languages

My motto / my guideline

"Be the change you want to see in the world." (Mahatma Gandhi)
With care and enthusiasm through the ups and downs of life!
Respectful from one HUMAN to another at all times!
I love the "sun" and life. I always focus on the solution, not on the problem!
Everyone is different, just as every ray of sunshine is perceived differently - and that is a good thing!

My home / my roots

I feel and live "internationally"
I live near the border triangle of "Luxembourg / France / Germany"

My skills

Personal, professional and practical experience
Certified international management assistant with leadership responsibility
Certified foreign language secretary (D / F / E)
Trainer IHK, according to ISO 170024 - Topics: see 5-star management for your office!
Life & health coach / life & health trainer © by Noura Ben Hassine - career and life coaching
Coach for stress management and burnout prevention
Coach for change processes
Reiki master / relaxation training - Tao Naotic health
Health practitioner (BfG) for personality development and self-awareness
Listed at the KfW-Beraterbörse (turn-around consultation and round tables)
As an author, I write myself (Wanted: 5-Sterne-Büro), for myself and for others
I work in cooperation with various training / further education institutes

My activities

DLWI (Deutsch-Luxemburgische Wirtschaftsinitiative)
DGAM (Deutsche Gesellschaft für Alternative Medizin)
BfG (Berufsverband der Gesundheitspraktiker)
BME (Bundesverband Materialwirtschaft, Einkauf und Logistik e.V.)